Kiwis trounce the aussies!

Swimart Pakuranga
When New Zealanders Jamie Spooner and Ricky-Ann Gold made the decision to purchase the Swimart store in Pakuranga on the North Island of New Zealand, they were seeking a strong business which could provide an enjoyable and comfortable lifestyle.
It's a decision they've never regretted – and four years later they've been rewarded for their hard work, winning seven key awards at the recent 2011 Swimart Awards. And amongst the swag were three prestigious national awards - Franchisee of the Year, Best Presented Business and Best Sales Growth.
The awards certainly reinforce that Jamie and Ricky-Ann obviously made the right choice when they decided to buy the business in 2007.
"I had been working in the store since 2004, so when the opportunity came up to buy it, I jumped at it, as I knew it was a secure investment for myself and my family," says Jamie.
Prior to owning Swimart Pakuranga, Jamie was involved in running video stores and a restaurant, while Ricky-Ann was in hospitality – perfect career backgrounds for a business that's all about customer service.
"I really enjoy solving customers' problems and helping them however I can. I enjoy building the business and feel proud that we have grown it into one of the most successful pool shops in New Zealand," says Jamie.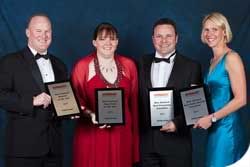 NZ trends
"A trend I've noticed in New Zealand is a tendency towards automation of cleaning, chemical dosing and anything else that saves time.  I guess with everyone being so busy, anything that makes life easier is always appreciated," Jamie says.
"Solar heating of pools is also popular as it is affordable and extends the swimming year. Customers are also relying more and more on the computerised water testing that we can do in-store."
Jamie and Ricky-Ann like to support their local community, particularly their local schools and the Starship Children's Hospital. Last year they held a family fun day and raised $2,500 for the hospital.
In their spare time Jamie and Ricky-Ann love to spend time with their two young boys, go fishing, go to the movies and catch up with friends.  And, of course, they spend many happy hours playing in their own pool and spa at home.